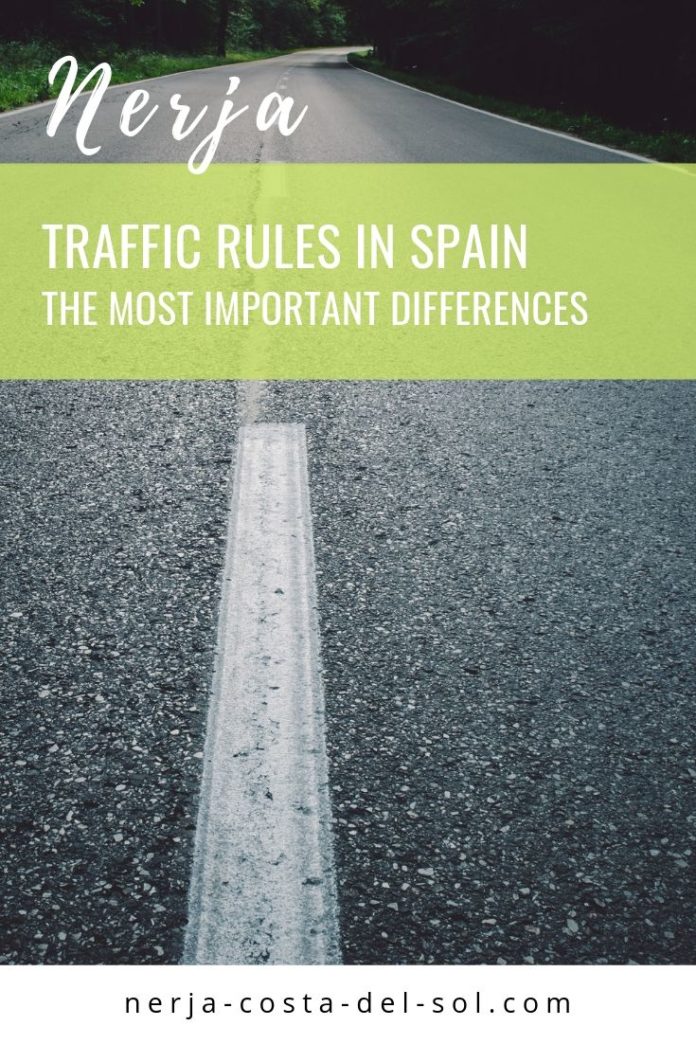 If you want to participate in the traffic, then you must also follow the traffic rules in Spain. Since ignorance does not protect you from punishment, you should look at the most important rules in this post before going on the road on your vacation.
The main traffic rules in Spain and the differences
Speed limits
In Spain the following speed limits apply on the roads:
In the city 50 km/h
Out of town 90 km/h
Highway 120 km/h
There are speed cameras in Spain! Keep your limits, otherwise, it can be expensive for you.
Highway and toll booths
There are two different types of highways in Spain: Autovía and Autopista.
Autoviá are motorway routes that are built and maintained by public carriers. Autopistas are privately built and operated motorways. These are mostly tolled and can be in better condition.
On the Costa del Sol, the Autovías are very well developed. I never had a reason to switch to a tolled Autopista. However, depending on the route and distance some destinations can be reached faster with an Autopista. It's best to test your routes in GoogleMaps just before the start of your trip to see if an Autopista is necessary.
Refueling your vehicle
Refueling works like in other European countries. In Spain, you pay first and then get to refuel your vehicle. The petrol pump stops automatically as soon as your credit is used on the display. The gasoline E10 (Germany) does not exist. The available products at gas stations are gasoline in various qualities and diesel.
Diesel – Gasóleo
Lead-free Super – gasolina sin plomo: 95 octane
Lead-free Super plus – gasolina sin plomo: 98 octane
Parking
You cannot park everywhere. In Nerja parking can be exhausting in high season. Watch out for yellow or zig-zag lines on the road. You are not allowed to park here. Even the sidewalk is prohibited. If you ignore the traffic rules in Spain, you will find an expensive parking ticket or your car will be towed away immediately. Where you can leave your car safely in Nerja, I'll show you in my post Getting to Nerja.
Yellow traffic light
In Spain you will have to pay more attention for the yellow traffic light. Stop with a yellow light. Driving through a yellow traffic light is penalized in Spain.
Roundabout traffic
A special feature of road traffic in Spain are the many two-lane roundabouts. There are also some in Nerja. The rules are relatively simple. Who is in the roundabout has right of way. If you want to turn later or drive around the roundabout, then get into the left lane. If you leave the roundabout at the first exit, you should be on the right.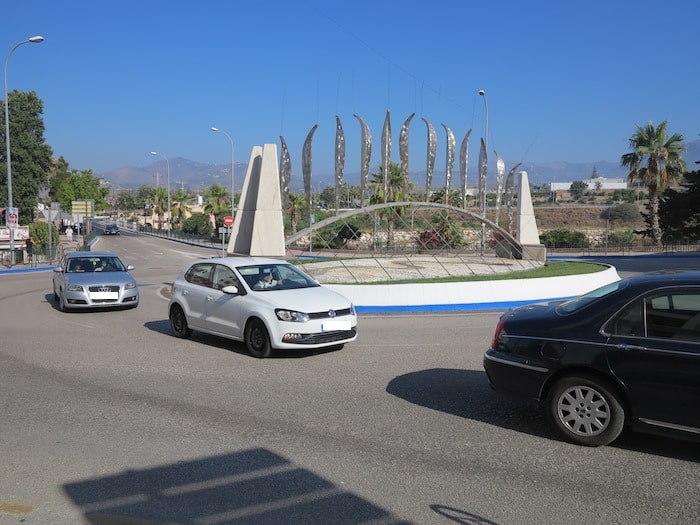 Safety vest, warning triangle, and first aid box
The traffic rules in Spain say the safety vest is mandatory. The same applies to the warning triangle. Make sure you have both in the car and use it in an emergency. In the first aid box, the Spaniards are looser. In a police check, this must not be presented. Nevertheless, my recommendation is always to have one with you in case of an emergency.
Tow away
You are not allowed to tow your own car or a friend. That is forbidden. That's a job for the towing service. The cost will be covered by the insurance of the rental car anyway.
If you are traveling with your private vehicle then you should protect yourself with insurance that fits with your needs for the holiday trip.
Driving Under the Influence
The limit in Spain is at 0.5 per thousand. For novice drivers at 0.3 per thousand. If a limit is exceeded, a penalty of 500 € is charged and 4 points are added. In Spain, they are working with a point system. At a certain amount of points, your driving license will be withdrawn. With more than 1.0 per thousand 1000 € will be charged and 6 points will be added. Over 1.2 per mille, a prison sentence of 3 to 6 months is possible or non-profit work of 30 to 90 days. The driving license is withdrawn for 4 years. For your safety leave your car at home when going out to drink or call a taxi service.
Driving with a mobile phone
The mobile phone stays in your pocket or is used with the hands-free kit. Even in traffic jams, the mobile phone is prohibited. If the police caught you with a mobile phone in hand be prepared to get a fine over 200 €.
Light duty for motorcyclists
The lights of your motorcycle always have to be turned on while driving on the streets.
Rent a car in Nerja
A rental car can give you the flexibility you need during your holiday. If you stay in Nerja, a rental car is not absolutely necessary. Nerja is a wonderful place to explore on foot. However, if you are planning trips to the surrounding area, a rental car is a good choice. You can rent a rental car upon arrival at Malaga airport. Usually, you will get better offers if you book your rental car in advance on the Internet.
Do you have any other tips about traffic rules in Spain?
Have you already had negative or positive experiences? Is there anything else that needs to be considered? I would be happy to receive an answer from you in the comments.
Do you have any unanswered questions on this subject? Then just write me in the comments and I will answer them in the best possible way for you.
Newsletter & Social Media
You want to be informed about new blog posts? Then subscribe to my newsletter. You will receive news from the Nerja Blog once a month and stay up to date. You can also follow me on Instagram, Pinterest or Facebook.
Read more
The 10 most beautiful cities in Andalusia around Nerja
The best activities in Nerja for summer and winter
Supermarket in Nerja – where to get groceries