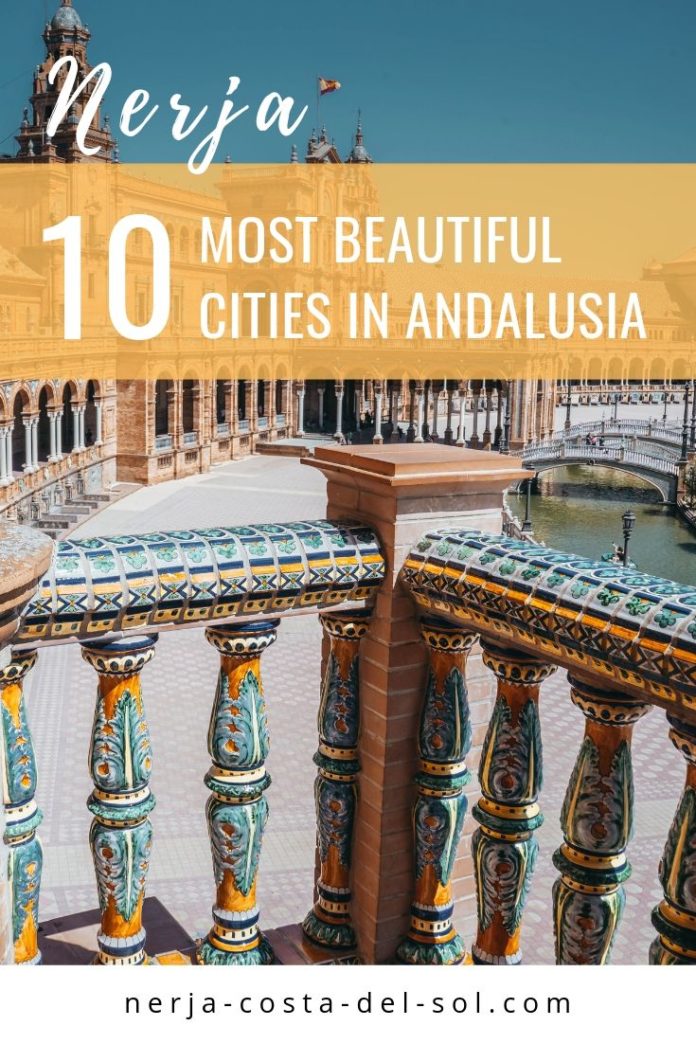 In the region around Nerja, you will find the most beautiful cities in Andalusia. Due to Nerja's central location, popular excursion destinations can be reached in just a few hours or minutes. It is a good idea to plan more time for your trip to get to know the beauties of the region better. Andalusia offers you a wide range of beautiful cities that attract millions of tourists every year. Whether the Mezquita in Cordoba, the Alhambra in Granada or the Giralda as well as Alcazar in Sevilla. These are just some of the top destinations you can find in Andalusia. In my article, I would like to give you an overview of the most beautiful cities you can reach from Nerja. The best choice for a day trip is your car or a rental car. Of course, there is also the possibility to book a tour. This gives you the opportunity to learn more about the history and culture of the cities with a travel guide.
The most beautiful cities in Andalusia – less than an hour's drive from Nerja
Malaga (45 min)
The airport of Malaga is probably the place to travel to Andalusia or to Nerja. With it, you can plan to visit the city after your arrival or before your departure. If this doesn't work out, Malaga can be reached from Nerja in only 45 minutes and is ideal for a day trip. The beautiful city offers you a breathtaking old town with Roman excavations, as well as many sights. Beside the museum of the famous painter Picasso, you will find a great harbour with Promenade, a bullring and the shopping street "Calle Larios", which is especially worth seeing at Christmas due to the very elaborate decoration and light show.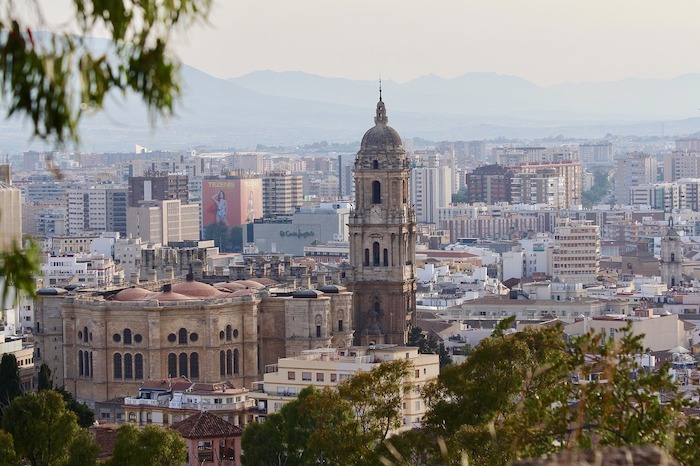 Sights in Malaga:
The port of Malaga
old town
Alcazaba & Roman Theatre
Gibralfaro Burgu
Picasso Museum
Santa Iglesia Catedral Basílica de la Encarnación
bullring
Shopping street "Calle Larios"
Other tours and activities in Malaga:
Granada (50 min)
Granada lies in the Sierra Nevada and is known for its tapas culture. Many people rave that the tapas bars in Granada have the largest and best tapas in the world. The highlight is the Alhambra, a UNESCO World Heritage Site. The Alhambra is the most impressive monument of Moorish architecture and Islamic art in Europe and is probably the most visited attraction in Andalusia. After a long day in the city, I can recommend a visit to the Arab baths to relax. They let you dive into the Arabic culture through the beautiful architecture of the spa and special relaxation treatments.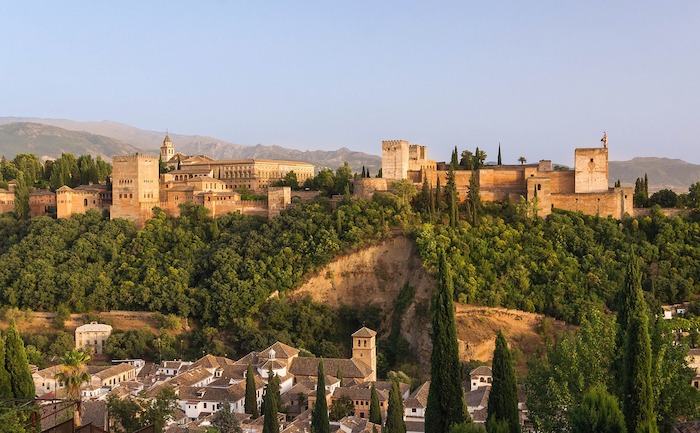 Sights in Granada:
Alhambra
Plaza Nueva and Paseo de los Tristes
Arab Baths – Baños Árabes
Mirador Sán Nicolás
bullring
Shopping Centre Nevada
Other tours and activities in Granada:
Frigiliana (10 min)
Frigiliana was chosen as the most beautiful village in Spain in 2016. The white village, situated on a mountain north of Nerja, is enchanting for its architecture and location. I have even dedicated my own article to Frigiliana. In this article, you can find all the information for a trip to Frigiliana.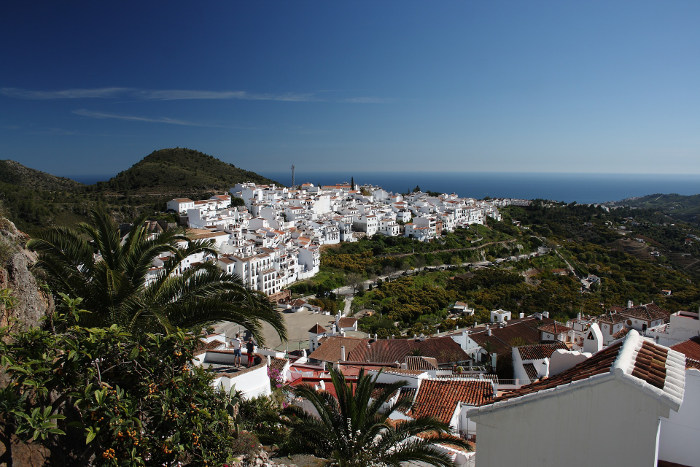 Sights in Frigiliana:
Old Town
Fuente Vieja
Church San Antonio
International Festival of Three Cultures in August
Other tours and activities in Frigiliana:
The most beautiful cities in Andalusia – one to two hours drive from Nerja
Antequera (1 h 15 min)
Many people use Antequera as a stopover on their way to the El Torca nature reserve, an attraction for nature lovers and hikers. El Torca is known for its unique karst formations and is one of the most impressive landscapes in Spain. Antequera has a long history and offers its visitors places of interest such as the Alcazaba Antequera fortress and the Real Colegiata de Santa María la Mayor church. Even a UNESCO World Heritage Site has been in Antequera for over 6000 years. In the dolmens of Antequera you can see three well-preserved tombs made of huge stones.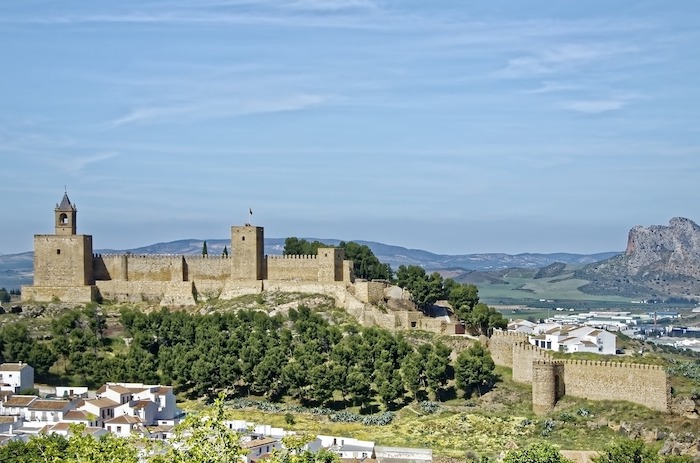 Sights in Antequera:
Old Town
Alcazaba Antequera
Church Real Colegiata de Santa María la Mayor
The Antequera Dolmens
La Peña de los enamorados – the rock of lovers
El Torcal de Antequera Nature Reserve
Other tours and activities in Antequera:
Marbella (1 h 30 min)
The place where rich and beautiful people meet. Marbella is known for its luxury. At the harbour "Puerto Banús" you will find beautiful yachts, the noblest shops and extravagant restaurants and bars. The opportunity to immerse yourself in another world and experience good food and service. Marbella also has another side. In addition to all the luxury, Marbella also boasts a small historic old town, adorned with small streets in Andalusian style. Between the old town and the beach promenade, there is the Avenida del Mar. Eight large bronze statues were erected there by the world-famous artist Salvador Dalí. Marbella also offers a lot for the active holiday with good sports facilities, golf courses and water sports, as well as a large Wellness offer.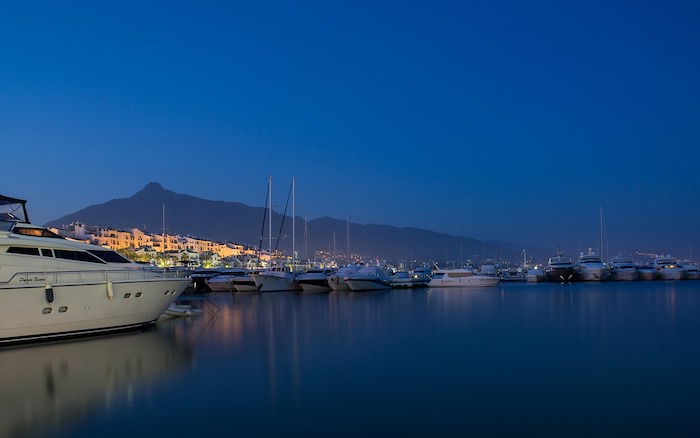 Sights in Marbella:
Old town
Parque de Alameda
Beach Prominade "Paseo Marítimo"
Avenida del Mar
Port "Puerto Banús"
Other tours and activities in Marbella:
Ronda (2 h)
The small town of Ronda is known for its breathtaking location on a high rock plateau. The deep gorge "El Tajo" lies between the new town and the old town. The districts are connected by the stone bridge "Puente Nuevo", which also serves as a vantage point. The many white houses, the unique location and the great mountain landscape in the background make Ronda a magical place in Andalusia and therefore one of the most popular destinations.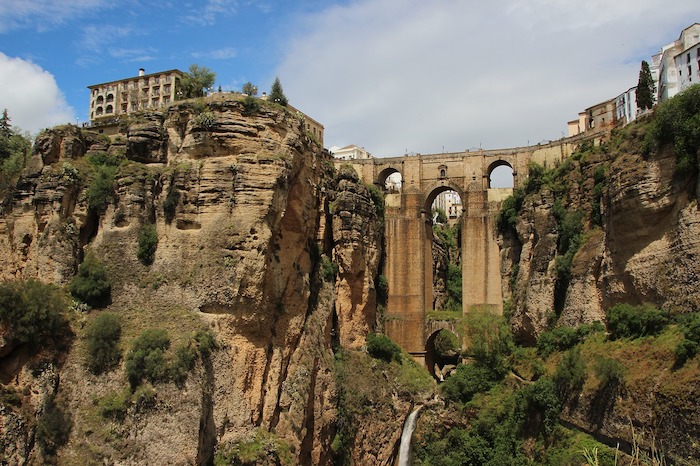 Sights in Ronda:
Puente Nuevo
Plaza de Toros – The Bullring
The Arab Baths
Palace of Mondragon
Palace of the Moorish King
Arabian Wall and City Orchard
Place of the Duchess of Parcent
Cuenca Gardens
Balcón del Coño Viewpoints
Acinipo Ruins
Other tours and activities in Ronda:
The most beautiful cities in Andalusia – two to three hours drive from Nerja
These excursion destinations are very suitable in combination with an overnight stay.
Cordoba (2 h 15 min)
The antique Cordoba belongs to the UNESCO world cultural heritage since 1984 and enchants the people with its old town and sights. The highlight is the famous mosque Mezquita, which was consecrated to the Christian church in 1236. Right next to it you will find the Taberna Santos with the best tortilla you can find in Spain. Also worth seeing is the Palace of the Christian Kings "Alcazar de los Reyes Christianos" and the Roman bridge and temple.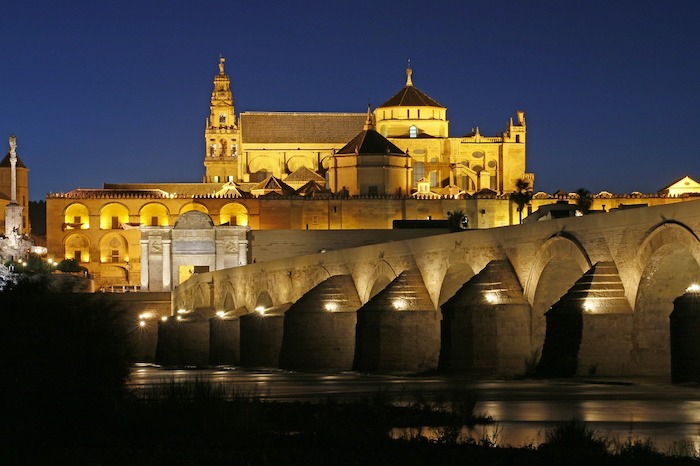 Sights in Cordoba:
Mezquita
Tortilla de la Taberna Santos
Roman Temple
Roman bridge
Alcazar de los Reyes Christianos
Other tours and activities in Cordoba:
Gibraltar (2h 30 min)
Gibraltar is located in the southwest of Andalusia, about 2 hours and 30 minutes from Nerja. Once there, people suddenly speak English, it can be paid with English pounds and the typical red phone booths from England are visible. The English colony brings a piece of English culture to Andalusia and is famous for its big rock on the coast. The cable car takes you to the highest point in Gibraltar, where several monkeys cavort and a great view of Africa awaits you. With the Gorham's Caves you will find another UNESCO World Heritage Site in Gibraltar and with the St. Michael's Caves a popular natural spectacle to watch.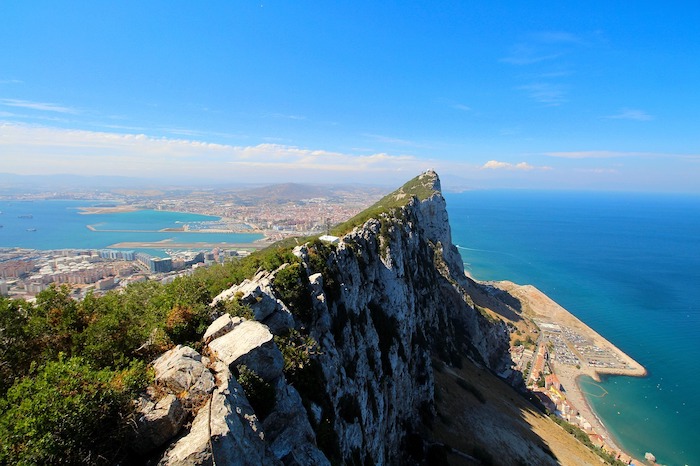 Sights in Gibraltar:
cable car
Rocks of Gibraltar
monkeys
Shopping in Gibraltar
stalactite caverns
lighthouse
Other tours and activities in Gibraltar:
Sevilla (3 h)
The capital of Andalusia is considered one of the most beautiful cities in Europe and, due to its impressive buildings, served as the location for the successful series Game of Thrones. The varied history of Seville shapes the architecture of the city and makes it a historical experience. Seville's tradition and sights make it a major tourist attraction in Europe. You should plan your trip in spring or autumn/winter. In summer, temperatures can exceed 40 degrees, which can severely limit your activities.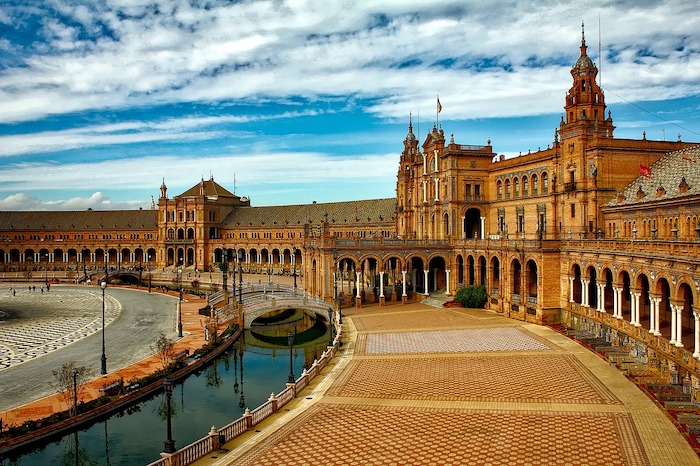 Sights in Seville:
Alcazar
Giralda and Cathedral
Plaza espana
Park Luisa
bullring
Metropol parasol
Casa de Pilatos
Puente de Isabell
Other tours and activities in Seville:
Cadiz (3 h 15 min)
The port city of Cadiz is the oldest city in Europe and is considered the stronghold of carnival in Spain. The impressive old town of Cadiz is filled with magnificent buildings and picturesque towers from the 17th and 18th centuries. At the beach promenade of the old town, you will find the fine sandy beach "La Caleta", which lies exactly between the two historical fortresses. Although Cadiz is a real eye-catcher, the tourist rush is limited. The city is never really crowded and the ideal place for those who want to make an impressive city tour without crowds.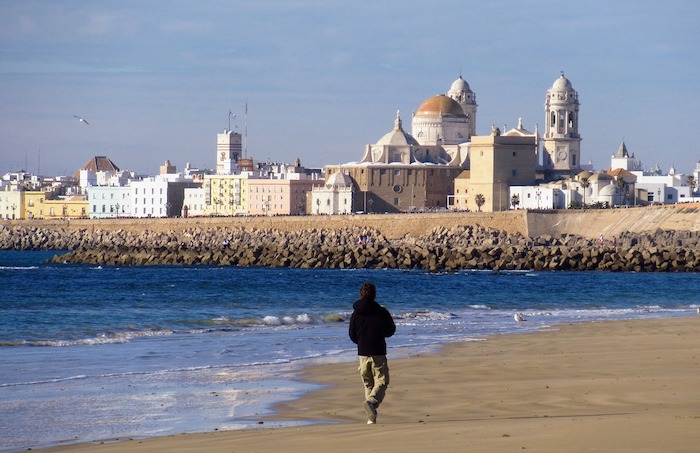 Sights in Cadiz:
Cathedral of Cádiz
Fortress Castillo de San Sebastián
Viewpoint Torre Tavira
The Roman Theatre
The Plaza de San Juan de Dios
Genovés Park
La Caleta Beach
Other tours and activities in Cadiz:
Do you have any other suggestions for towns worth seeing around Nerja?
Have you visited any of these cities yet? Are there any other cities around Nerja that you liked? I would be happy to get an answer from you in the comments.
Do you have any unanswered questions on this subject? Then just write me in the comments and I will answer them in the best possible way for you.
Newsletter & Social Media
You want to be informed about new blog posts? Then subscribe to my newsletter. You will receive news from the Nerja Blog once a month and stay up to date. You can also follow me on Instagram, Pinterest or Facebook.
Read more
Frigiliana – one of the most beautiful villages in Spain
The best activities in Nerja for summer and winter
55 things to do and see in Nerja