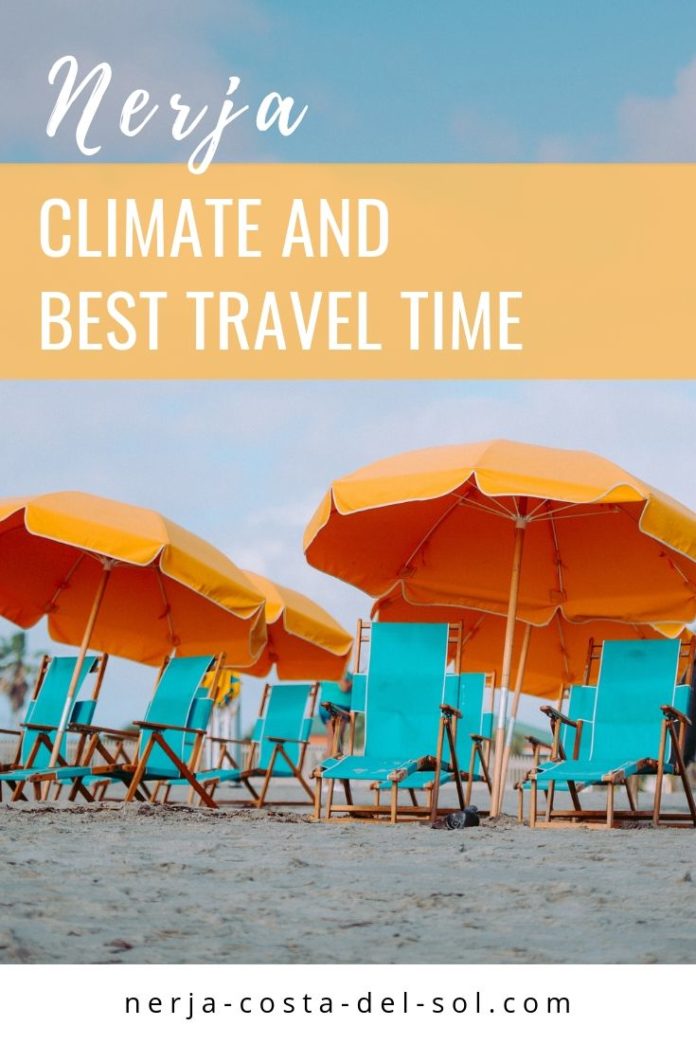 Nerja is located on one of the southernmost points in Europe. Due to the situation, the average temperatures are above the European level. The location on the Mediterranean sea ensures cool temperatures on the land and pleasant water temperatures for a beach vacation. The inhabitants of the region call the climate "El Mejor Clima de Europa", which means "the best climate in Europe". There is probably something to it that the Costa del Sol is one of the most popular tourist destinations in summer. Find out when the best time to go is for you:
Temperatures – Nerja, Costa del Sol
Month
Min. Temp.
Max. Temp.
Hours of sunshine / day
Rainydays / month
Jan
2 °C
12 °C
5
8
Feb
3 °C
14 °C
5
8
Mar
4 °C
17 °C
6
10
Apr
7 °C
20 °C
7
10
May
10 °C
22 °C
7
8
Jun
15 °C
31 °C
8
2
Jul
17 °C
34 °C
11
1
Aug
17 °C
33 °C
10
1
Sep
14 °C
29 °C
8
4
Oct
10 °C
23 °C
6
7
Nov
6 °C
17 °C
5
8
Dec
3 °C
13 °C
4
10
When is the best time to go to Nerja?
The most popular travel time for Nerja is Summer (May through September). During this time it is warm to hot, dry and the water temperature is pleasant. The perfect time to spend a lot of time at the beach. In the months of June to September, the majority of tourists are visiting Nerja. From November to March the temperature is pleasant to cool. Autumn in this region is ideal for sports activities or city sightseeing. The temperatures drop to a comfortable level and there is little rain. Just right for an active holiday. In winter there are fewer tourists. For those, who like it relaxed and enjoy the peace should visit Nerja at this time. During winter you can, for example, observe the caves of Nerja or other sights without hustle.
Beach season in Nerja
The months of May to September offer you the ideal temperature for the beach visits. Usually, temperatures at the end of April are high enough for swimming. The last beach season month of the year is October, which usually still brings pleasant temperatures. Depending on the weather and the year, however, the months of April and October may vary. In the winter months, high temperatures can be reached, but the splashing in the water is more for brave.
Average water temperature – Costa del Sol (Mediterranean sea)
January
15 °C
February
14 °C
March
14 °C
April
16 °C
May
18 °C
June
19 °C
July
22 °C
August
23 °C
September
21 °C
October
21 °C
November
16 °C
December
14 °C
Nerja is a popular destination for tourists and shows its true beauty in summer with stunning beaches and coves. Fall is the right time to get active with pleasant temperatures for hikes or city sightseeing. In winter, Nerja is relaxing and peaceful. During this time you can admire the beauties of the Costa del Sol with fewer tourists.
Do you have any other tips about the climate or weather in Nerja?
What were your experiences with the climate and weather in Nerja like? Are there any other important topics missing from this article? I would be happy to get an answer from you in the comments.
Do you have any unanswered questions on this subject? Then just write me in the comments and I will answer them in the best possible way for you.
Newsletter & Social Media
You want to be informed about new blog posts? Then subscribe to my newsletter. You will receive news from the Nerja Blog once a month and stay up to date. You can also follow me on Instagram, Pinterest or Facebook.
Read more
Tips and timetables for your journey to Nerja
Accommodation in Nerja: what you should know before booking
Public holidays and Events in Nerja