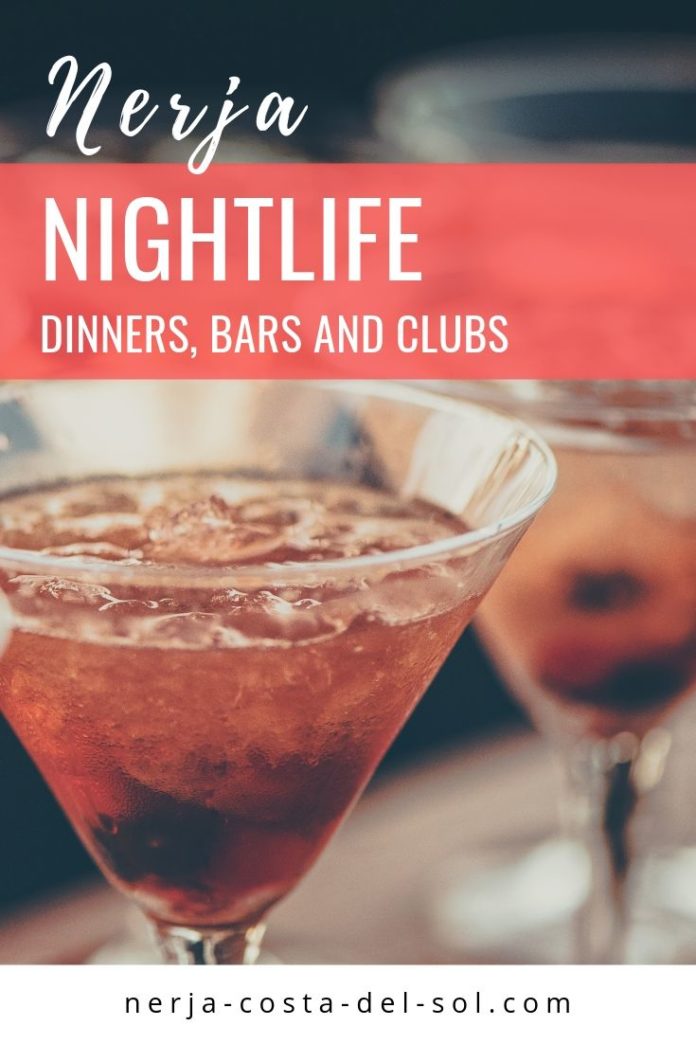 Nerja has an exciting nightlife and offers a wide range of restaurants, bars and clubs. Especially in the summer months people are drawn to the streets to meet with friends and party.
Dinner – Restaurants and Tapas Bars in Nerja
Dinner in Nerja
The dinner of the typical Spaniard starts relatively late compared to the other Europeans. As a rule one meets around 21:00 o'clock to eat. In summer the restaurants are well frequented. If you have chosen a certain restaurant, a reservation at this time is recommended. Since Nerja has adjusted to tourism, many restaurants open already from 18:00 o'clock. In winter some restaurants take a winter break and only return to business in spring or summer. But you don't need to worry. This is only a small part and the majority of restaurants are open all year round.
Tips, information and etiquette for your visit to the restaurant or tapas bar in Nerja can be found in my post "Food and Drinks in Andalusia: etiquette and tips for Nerja".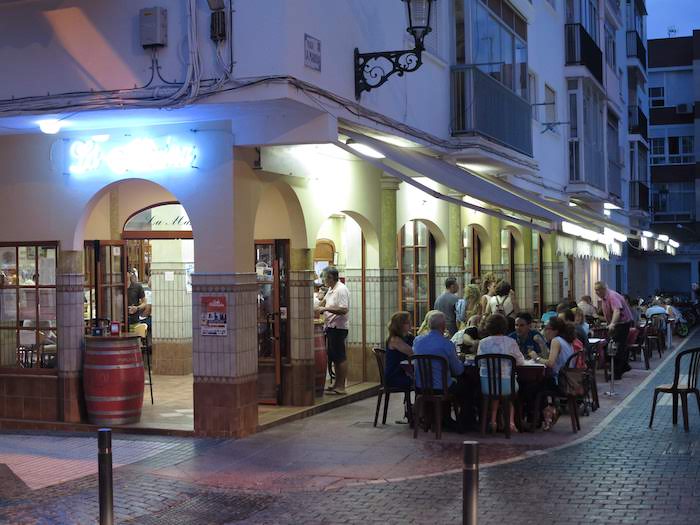 Restaurants in Nerja
The choice of restaurants in Nerja is huge. From Spanish to international cuisine, Nerja offers something for every taste. You will find the highest density of restaurants in the old town of Nerja. Along the streets there is a restaurant every few meters. If you are overwhelmed by the choice and find the decision difficult, I can recommend some restaurants to you:
Spanish cuisine – Paco Mari, La Taberna de Pepé
Fish and seafood – La Marina
Italian cuisine – Pinocchio
Indian cuisine – Curry House
Tapas Bars in Nerja
As an alternative to going to the restaurant, you can eat in one of the many tapas bars. Many Spaniards prefer to eat tapas or raciones, especially in summer, rather than a big meal. A tapas bar is a popular meeting place for friends and family before going on to celebrate. Tapas bars open already in the afternoon and close around 00:00 o'clock at night. You can find the most popular tapas bars in Nerja in my post "My Top 5 tapas bars in Nerja".
Cool drinks with great ambience – cocktail bars in Nerja
After dinner or some tapas many people continue to celebrate or have a drink. Drinking opportunities in cafés, bars or restaurants can be found everywhere in Nerja. If you want to have a good drink in a special atmosphere at a late hour, you can do so in one of the special cocktail bars in Nerja. One possibility is the cocktail bar Buddha in the old town of Nerja. The special feature is the large roof terrace, which has been converted into a large lounge. A great place for one or two drinks. Another great atmosphere is offered by the terrace of Cochran´s Irish Pub. The terrace is right next to the cliffs of the Balcon de Europa and offers you a wonderful view of the sea and the adjacent beaches.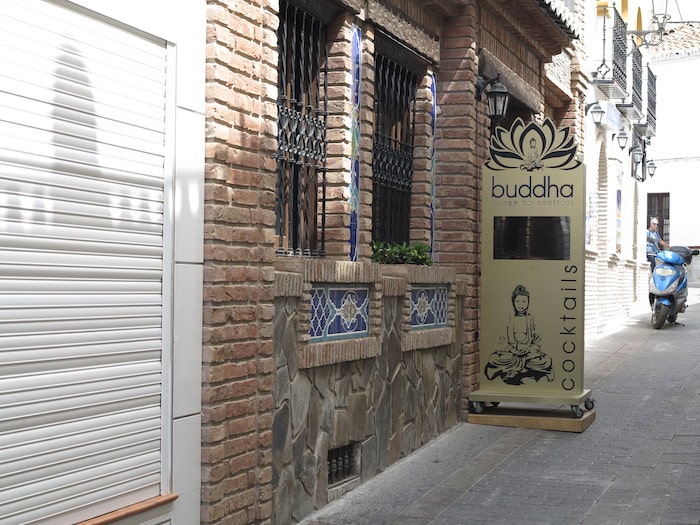 The centre to celebrate – Plaza Tutti Frutti in Nerja
The Plaza Tutti Frutti is the main place to go for a party in Nerja. The place offers you a large number of different bars. Besides the Spanish bars you will also find a rock bar and an Irish pub. On summer nights the Plaza Tutti Frutti is crowded and offers besides the normal operation also great events with live music and dance program. Admission to all bars is free. The right place for an exciting and long night. You can party at the Plaza Tutti Frutti in Nerja until about 04:00 am. After closing the bars you can either go home or continue to the clubs.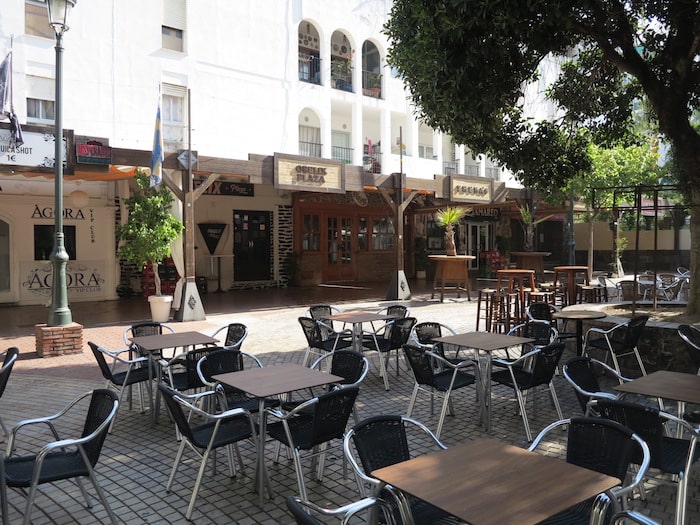 Bars and Irish Pubs in Nerja
Besides the Plaza Tutti Frutti there are of course many other bars in Nerja. For those who don't like the place, you can visit the nearest Vagos Bar. Do you like Guiness, Cider and Co.? Then the Irish Pubs in Nerja are worth a visit. Most Irish pubs in Nerja organise weekly live music events or invite you to important sporting events.
Singing with friends – Karaoke in Nerja
You like to sing and dance with your friends? Then a karaoke bar in Nerja could be just right for you! The Karaoke Bars in Nerja have a large wish list of songs and professional singing equipment. In the Karaoke Bar "Sing" for example, you can sing and dance to your favorite songs. It is located on the other side of Plaza Tutti Frutti and only a few meters away. The Bar Blanco y Negro is another possibility for a round of karaoke and is located in the street Calle Pintada at the northern end of the shopping street of the old town.
Dancing and celebrating – discos and clubs in Nerja
If you still haven't had enough, you can go on to the club and dance and party until the early hours of the morning. In Nerja there are two discotheques only a few meters from Plaza Tutti Frutti. The larger Rockefeller Club is on Calle el Chaparil. The disco jimmy´s is located in the street "Calle Antonio Millón". Both discotheques charge an entrance fee.
Semana Santa en Sala Rockefeller from Emilio Gonzalez on Vimeo.
Do you have any other tips for a nice evening in Nerja?
Have you already had good or bad experiences in Nerja? Are there any other places in Nerja worth visiting at night? I would be happy to get an answer from you in the comments.
Do you have any unanswered questions on this subject? Then just write me in the comments and I will answer them in the best possible way for you.
Newsletter & Social Media
You want to be informed about new blog posts? Then subscribe to my newsletter. You will receive news from the Nerja Blog once a month and stay up to date. You can also follow me on Instagram, Pinterest or Facebook.
Read more
Food and Drinks in Andalusia: tips and etiquette guide for Nerja
11 events in Nerja you shouldn't miss