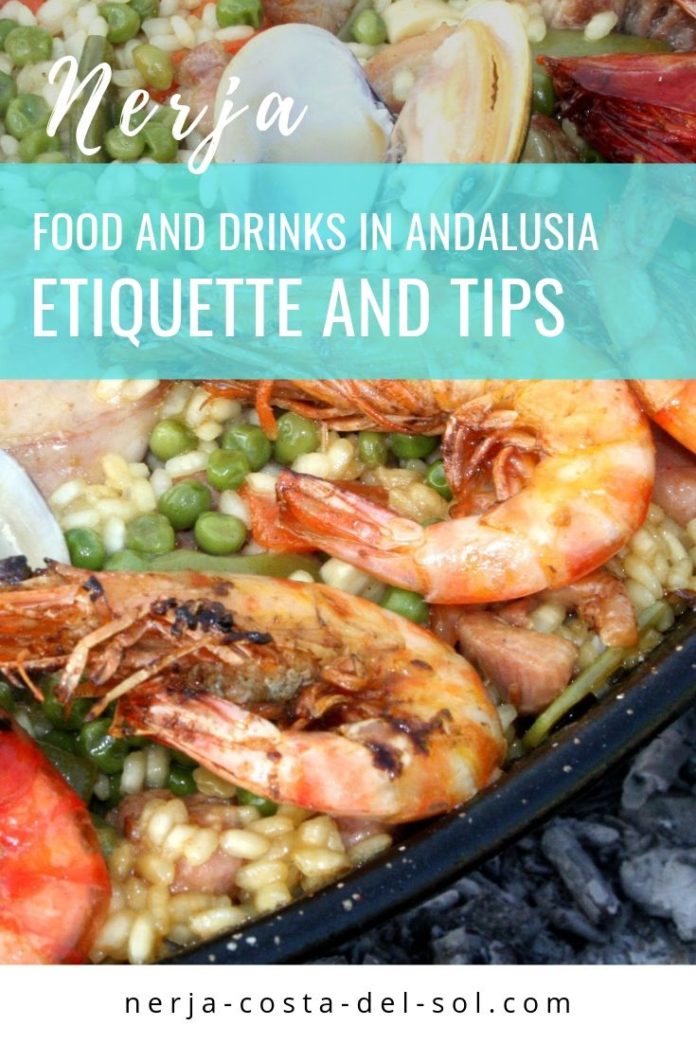 Spain has its own culture and is different from many European customs. These tips will help you during your visit to Nerja and give a first insight into the Andalusian customs.
The eating habits of the Spaniards
Like other countries in the south, the Spaniards are also considering eating the meals a little later. That has a good reason. The lifestyle of the southerners depends on the temperatures of the country. The most active time of the Spaniards begins in the evening, where it gets cooler.
Breakfast – El desayuno
The first meal of the day starts from 07:30 – 10:30 for the Spaniard, depending on the beginning of the working time. The breakfast is small and simple. Usually, they will have a coffee with a pastry, such as churros, porras, magdalenas (muffins), galletas (biscuits) or a cruasán (croissant). If you want to experience a typical Spanish breakfast, you should order a toast with olive oil and tomato pureed on it.
Lunch – La comida
The generous lunch starts between 14:00 – 16:00 when the siesta starts. The siesta is from 14:00 – 17:00 clock and serves as a resting phase for the warmest part of the day. Smaller shops and restaurants are usually closed during this time. In high season, however, there are many shops, restaurants and bars open longer. If you want to try a Spanish paella during your holiday, you should do it during this time, as this dish is usually only available at lunchtime.
Dinner – La cena
At late hours between 21:00 – 23:00 clock begins the dinner for the Spaniard. Restaurants and tapas bars are well filled at this time. Before the visit to the restaurant, they also like to start with tapas. Some Spaniards also prefer to do a tapas tour instead of a lavish dinner in the restaurant. On this tour, you visit one tapas bar after the other and enjoy one tapas dish per each drink.
This graphic shows very nicely the different eating habits in Europe.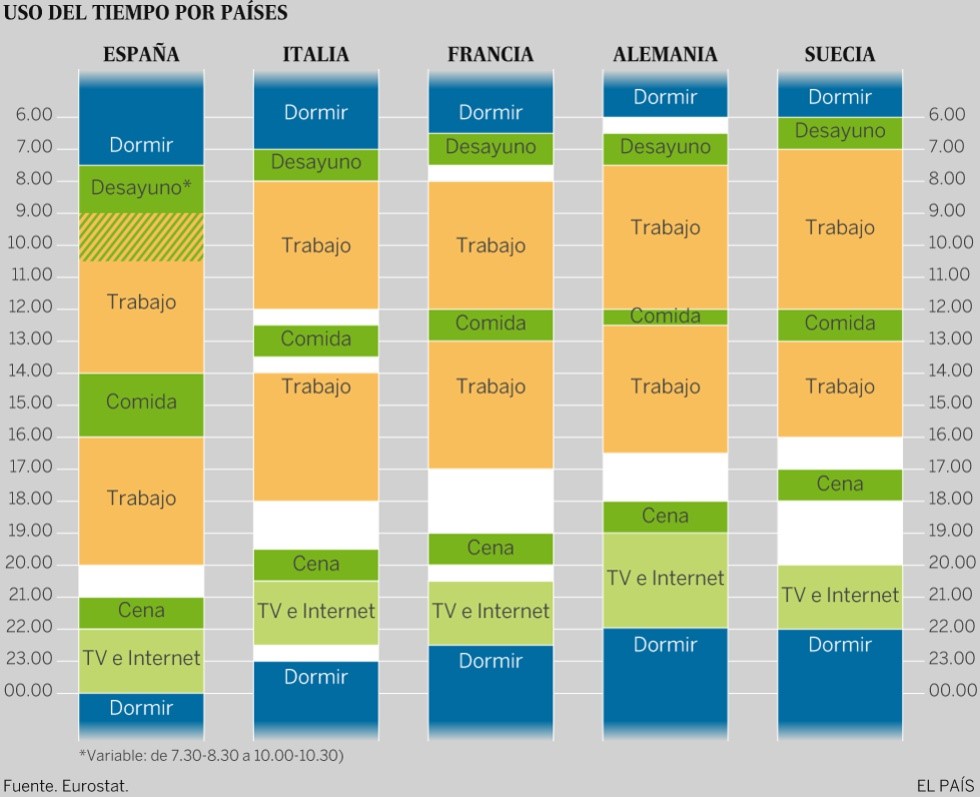 Translation: ESPAÑA = Spain, ITALIA = Italy, FRANCIA = France, ALEMANIA = Germany, SUECIA = Sweden, Dormir = sleep, Trabajo = work, Desayuno = breakfast, Comida = lunch, Cena = dinner
Tips for your visit to the restaurant in Nerja
Nerja offers you a huge number of restaurants serving local and international cuisine. To go out to eat will be probably on every holiday list. Here you will find all the important information and tips for restaurant visits and food you can order in Nerja.
Chirringuitos in Nerja
A Chirringuito is a restaurant or bar located on the beach. They usually are only covered by a roof with no walls and are located in tourist places. You can find a lot of them on the beach of Burriana in Nerja. The most well-known Chirringuito is the AYO in Burriana. At lunchtime, they serve an excellent paella.
Local specialties
Seafood and fish are some of the specialties in Nerja. As a city right on the seaside, there are numerous dishes and offers in the gastronomy. If you love the fruits of the sea, you should definitely visit the restaurant Puerta del Mar or the slightly cheaper, but still a good restaurant La Marina. The most popular tapas bar for fish and seafood in Nerja is La Pulguilla.
Spanish and Andalusian dishes are available in every Spanish restaurant in Nerja. Probably the most famous food next to paella is the Jamon Serrano or Iberico – the best ham in the world. You can find it in every restaurant or tapas bar in Nerja. This is ordered classically with the cheese Manchego. The word Iberico in the name stands for quality and means that the meat comes from the Iberian pig. The bred breed is fattened with acorns which gives the meat a nutty taste.
My Spanish favorites are Secreto Iberico – a steak from the Iberian pork, Patatas a lo pobre – a kind of fried potatoes in oil and Gambas al Pil Pil – shrimp in a paprika chili/wine sauce.
There are a variety of Spanish food and dishes. Usually, the menus are available in multiple languages, making the decision much easier. Another option is to recommend the dishes from the waiter.
Table assignment
The table allocation in the restaurants in Nerja is usually done by the waiter. When entering the restaurant, it is best to let the waiter accompany you to a table. It's different at the tapas bars or cafes. Usually, there is free seating.
Payment and tip in Spain
In Spain, the locals pay the total bill as a group and put the money in a pot. There are usually no separate invoices.
Tips are not common in Nerja. You will not insult anyone with not giving a tip. Nevertheless, it is appropriate to reward the waiter if the food and service were good.
Tapas Bars in Nerja
What exactly is a tapas bar?
A tapas bar is a bar where you can get a free tapas for your ordered drink. It serves as a meeting place for many people in the evening where you can enjoy an alcoholic drink with family and friends. There are also many restaurants offering tapas at a special tapas bar. It is not common in Spain to serve free tapas with your drink. This is something that is special in some regions in Andalusia and common in Nerja. On top of the tapas, you will usually be served free nibbles such as pickled olives, chips, nuts or biscuit sticks. Tapas bars in Nerja are often visited between lunch and dinner, or as a family or friends gathering place at the weekend.
What is Tapas?
Tapas is not a type of food it is a format. Tapas are small appetizers served in small bowls. Many tapas dishes are hearty and greasy, which of course goes very well with a sip of beer or wine. Each bar has its own range of tapas, which usually sits in front of a glass cabinet and can be selected. The selection and type of tapas in Nerja is great. From classic Jamon y queso to chicken wings, curry pan or seafood, everything is offered that goes well with a glass of beer or wine. If the tapas are too small you can order a Racion. This is the larger version of a tapas and served on a large plate. However, this costs money and must be ordered separately to the drink.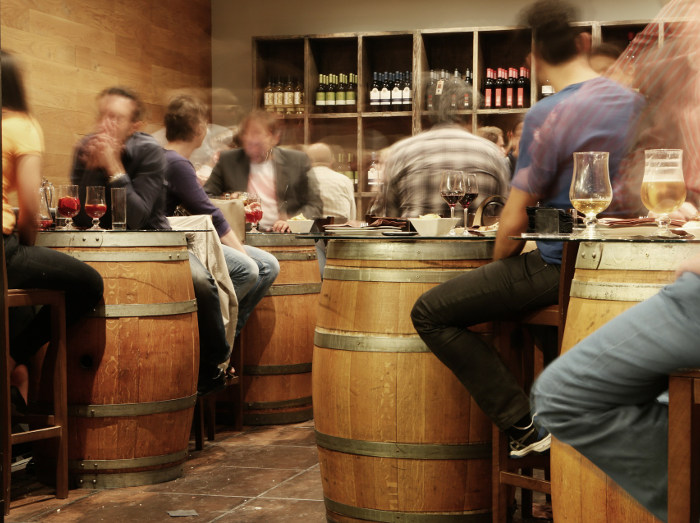 Local beers
The most common beers in Nerja are the well-known San Miguel, Alhambra from Granada, Cruz Campo from Seville and Mahou from Madrid. The beers in a tapas bar are served in about 0.3 liter glasses.
Local wines
Spain is known for its good wines, such as the Rioja, La Mancha or Ribeiro. Nerja also serves wine in tapas bars. However, if you are a wine lover, you should go to a bodega. This follows the same principle of Tapas Bar but offers a larger and better selection of wines.
Local favorites
Tinto de Verano – a mixed drink of red wine and fanta de límon (lime). The drink is especially popular with women and is ordered at tapas bars as an alternative to beer.
Rum Brugal – the most popular rum in Andalusia. Brugal is often served in cocktails or as a mixed drink with coke.
Sitting or standing?
A tapas drink is usually not served at the table. If bar tables or barrels with high chairs are on site, they should be used for tapas. Table seats are reserved for visitors ordering food and meals.
Smoking in Restaurants and Bars
Smoking in restaurants and bars is not permitted and is only permitted outdoors.
Payment and tip
The same procedure as in the restaurant. One person pays the bill and tip can be given.
Legal regime for alcohol in Spain
The alcohol limit when driving is 0.5 per thousand. It's best to leave the car so you can enjoy the evening.
Cafés
Many bakeries and cafes serve breakfast and coffee. The Spaniards love coffee and like to replace it with breakfast. Coffee in Spain is strong. Here you will find the most important types of coffee for your next holiday in Nerja.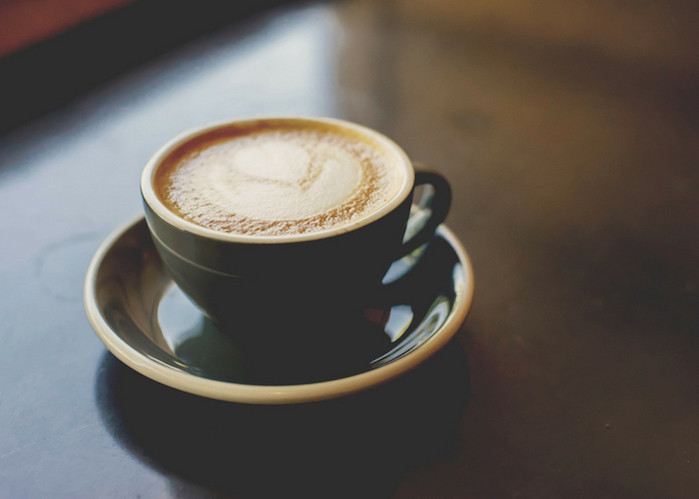 Coffee in Spain
Café solo – Espresso (black)
Café con leche – Half of espresso and milk
(The Café con leche in Spain has always been too strong for me.) The Spaniards take it very hard to order the right coffee, here is a nice description of how to properly order coffee in Nerja, my favorite: Café Corto.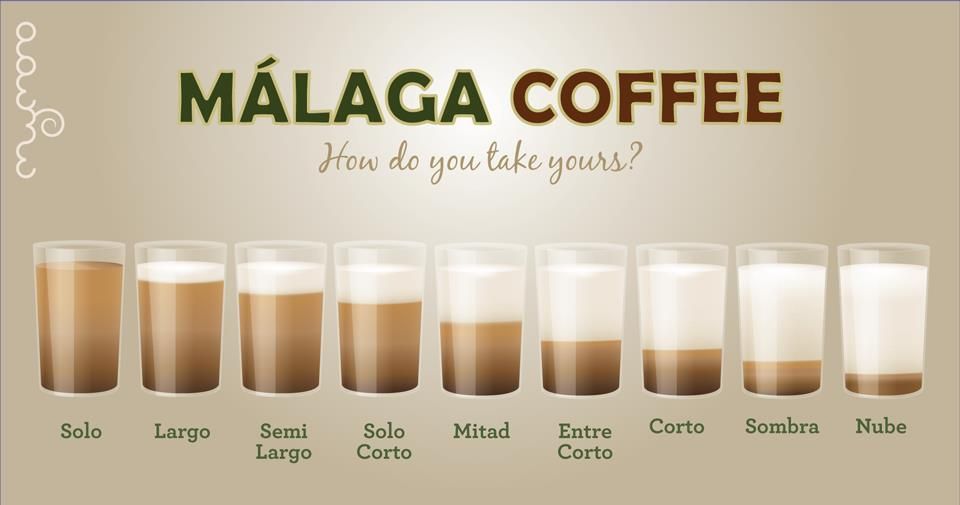 Café americano – filter coffee
Carajillo – espresso with a dash of brandy
Café Bombón – Espresso with sweet condensed milk
Barraquito – Espresso with sweet condensed milk, sugar and liqueur
Café con hielo – Espresso with ice cubes
Spanish for beginners
Here are a few sentences and words that may be useful for your next vacation:
Hola – Hello
Adios – Goodbye
Gracias! – Thank you!
Por favor – please
Denada! – You're welcome
muy rico! – delicious!
La cuenta, por favor! – The Bill please!
If you want to learn more words for your vacation, then a compact phrasebook or the mobile app Google Translate can help you.
Do you have any other tips about eating and drinking in Nerja?
Do you know any other helpful tips to follow in Nerja? I would be happy to get an answer from you in the comments.
Do you have any unanswered questions on this subject? Then just write me in the comments and I will answer them in the best possible way for you.
Newsletter & Social Media
You want to be informed about new blog posts? Then subscribe to my newsletter. You will receive news from the Nerja Blog once a month and stay up to date. You can also follow me on Instagram, Pinterest or Facebook.
Read more
Nightlife in Nerja – Dinners, Bars and Clubs