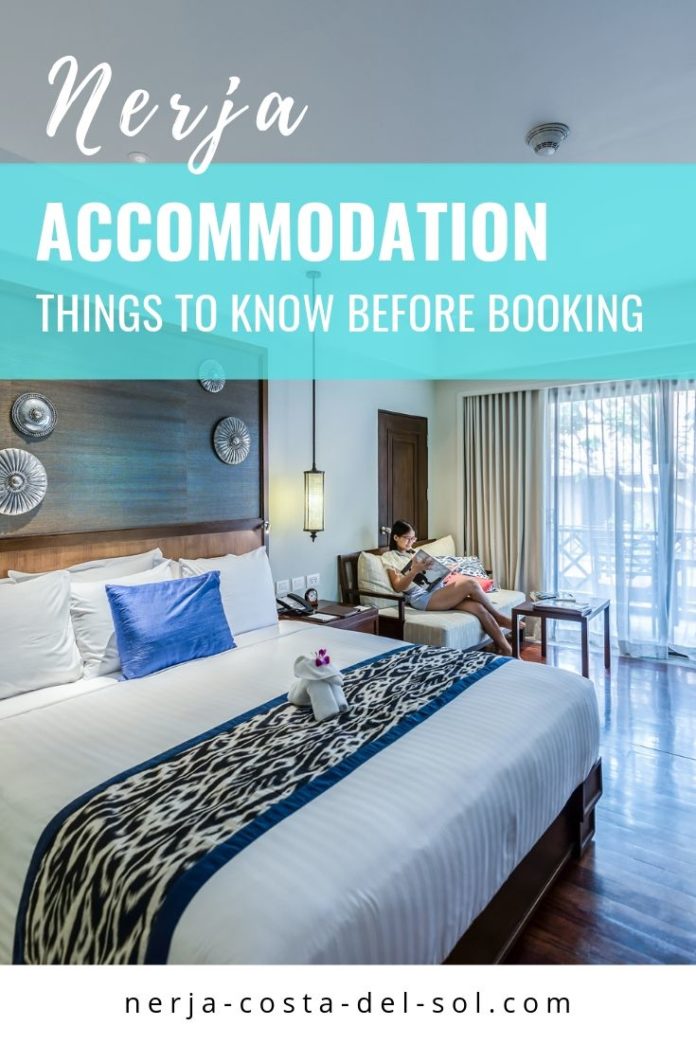 A good holiday should be well planned. A pretty difficult approach if you've never been to this place before. The type, location, and equipment of the accommodation have a strong influence on the holiday experience. For your vacation to be a success, there are a few things to keep in mind when choosing your accommodation in Nerja.
The right location of your accommodation in Nerja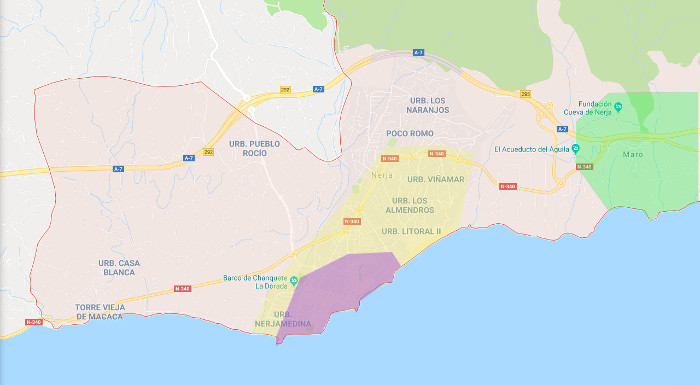 Nerja
The red marked area shows you Nerja with its borders. Here you can usually find residential areas or industry. On the coast, there are secluded and quiet places for a rest or family vacation. With the decentralized location, however, you should be aware that usually a car or public transport is needed to reach the center of Nerja or grocery shops.
Urban area
The yellow marked area is the urban area of Nerja. This is where the real city life begins. Here you will find shops and the typical infrastructure for a resort. In this area, you can still reach all major attractions and beaches on foot and do not necessarily need transportation.
Center / Old town
The purple marked area is the centerpiece of Nerja with the highest density of restaurants, bars, cafes, and shops. From here you can reach the main attractions, such as the Balcon de Europa in just a few minutes. In the middle of the old town, you will find numerous shops and access to the most popular beaches in Nerja. In high season, however, it can be a bit restless and noisy due to the fact of many people or events.
Maro
The green marked area is Maro, a district of Nerja, about 3 km away. Maro is a small quiet fishing village with one of the most beautiful coastal landscapes in Andalusia. If you want to stay in Maro I recommend you to rent a car. A car will take you to the center of Nerja in a few minutes, and you can easily visit the beaches along the coast of Maro. Moreover, you are just minutes away from one of the biggest highlights in Nerja the Cuevas de Nerja.
Best time to travel
Depending on the season, it can be difficult to find the right accommodation. In high season it attracts thousands of tourists to Nerja and the best accommodations can be sold out quickly. In my article "Climate and best travel time" you will find all important information about the best times to travel to Nerja. If planning a trip in high season, you should start looking for accommodation as soon as possible.
Holiday periods, holidays or events could also have an impact on the occupancy rate of the accommodations. These dates should be kept in mind in your organization. In my post "Public Holidays and events in Nerja" lets you know the most important dates for your vacation planning.
Accommodation facilities
When looking for accommodation you should make sure that the offer meets your requirements. Think about all the important things you will need and write them down to keep them in mind. Does the accommodation look clean in the pictures? Where is it located? Is Wifi available? How are the beds divided? Do I want a pool? The number and quality of the equipment is, of course, all a matter of money. However, the goal should be to find the best deal to your needs with a targeted budget.
Air conditioning in the summer
If you travel in the summer months of June to September, you should make sure that the accommodation is air-conditioned. Especially July and August are very warm months and air conditioning makes life and sleeping in the accommodation a lot easier.
Parking space lack in Nerja
In high season there is a great lack of parking in the center of Nerja. If you arrive by car and decide to stay in the center, private parking space on the property is a great relief.
Customer reviews help you with the decision
The selection of accommodations on the internet is large. Reviews can help you with selecting the right accommodation. Recommendations are usually available at every booking portal and are written by travel guests. These can give you a good idea about the condition and service of the accommodation.
Security when booking with a trusting agent
When booking the right accommodation, it is important that you choose a trusted agent. Most of the holiday rentals are offered and booked over the internet. Many platforms, such as booking.com, offer a wide range of accommodation options that can be selected through various filtering options. The good thing is that you are covered by the intermediary for hidden costs. Payment is made through the agent and will be forwarded to the landlord. If difficulties arise, the agent can usually help you or give you advice. Another advantage of booking.com is that in many offers a free cancellation is possible. This is a very valuable service when changes in vacation planning occur or better deals emerge.
Accommodation in Nerja
Nerja convinced you? In high season it can be difficult to get a good accommodation in Nerja. Take a look at the accommodation search to find out if your desired date is still available.
No accommodation for Nerja yet? Then visit Airbnb, the largest online platform for private accommodation. Register here and get 25 € for your first booking via my link!
Do you have any other tips for accommodation in Nerja?
Have you already gained experience in booking accommodation? Are there any other tips to follow when booking accommodation in Nerja? I would be happy to hear from you in the comments.
Do you have any unanswered questions on this subject? Then just write me in the comments and I will answer them in the best possible way for you.
Newsletter & Social Media
You want to be informed about new blog posts? Then subscribe to my newsletter. You will receive news from the Nerja Blog once a month and stay up to date. You can also follow me on Instagram, Pinterest or Facebook.
Read more
Hotels, Apartments and Hostels in Nerja
5 reasons why Nerja should be on your next Vacation Plan
Public holidays and Events in Nerja