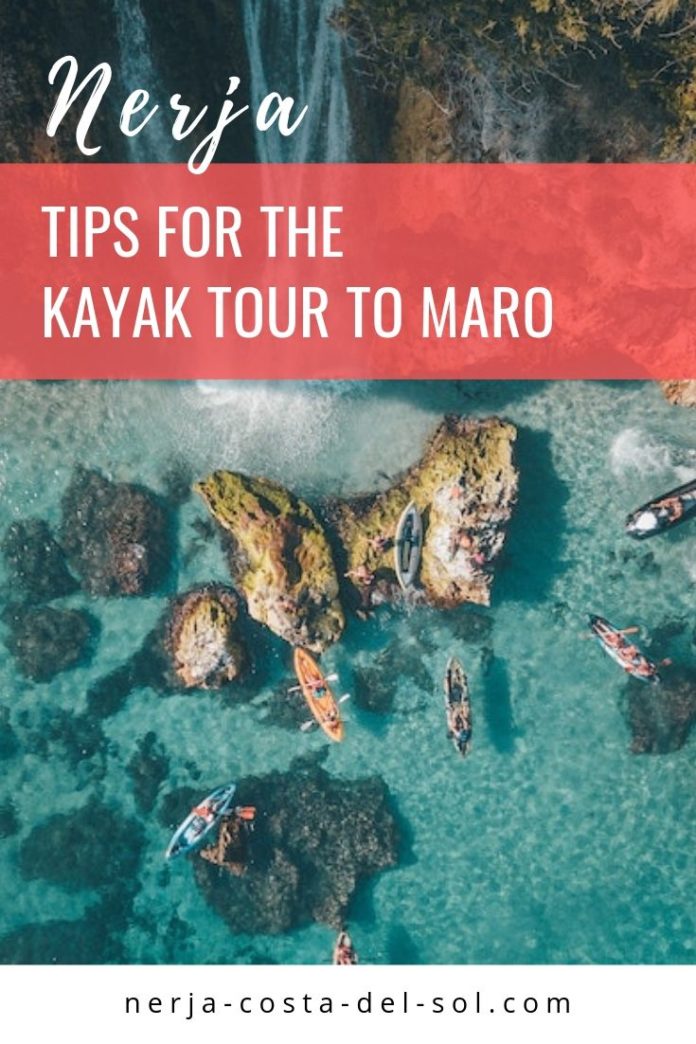 The beach Burriana in Nerja offers a lot of possibilities for water sports. One of them is to paddle along the coast by kayak towards Maro. By a recommendation from my girlfriend, I became aware of this kayak tour, which has led us to the Natural Park Acantilados Maro – Cerro Gordo. This natural area extends along a 12 km long coastline from Torre de Maro in Nerja to the bay of Cala de Cazaida in Almuñércar (Granada). The nature park is characterized by steep walls up to 100 meters high, unique cliff and rock formations, caves and waterfalls. Other attractions in Acantilados de Maro – Cerro Gordo are the five ancient watchtowers along the coast and the aqueduct of Aquila, located on the main road from Nerja towards Maro.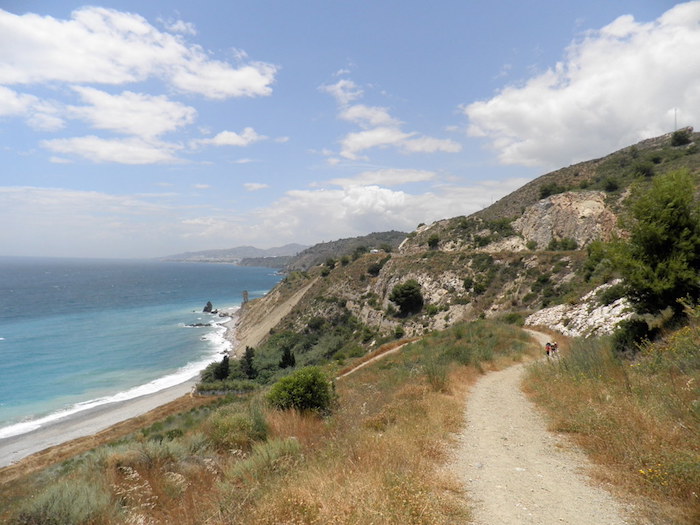 The kayak tour from Burriana to Maro
The kayak tour lasts 2 to 3 hours depending on weather conditions and group. The tour starts in front of the educare aventura event office located at the eastern end of Burriana beach. The excursion will be accompanied by a professional guide who will assist you throughout the tour and tell you something about the natural environment along the coast of Nerja.
Before it starts you will be given a suitable life jacket. At no extra cost, you will also be provided with snorkeling gear, which you can use at one of the breaks. Please do not forget that you are exposed to the sun for a very long time on this kayak tour. I recommend you to bring with you plenty of drinking water and food for children, as well as sunscreen and appropriate clothing, such as a hat, sunglasses and a long-sleeved shirt. You can put your personal belongings in a waterproof chest, which you can get for free on request.
After the equipment has been delivered, your guide introduces himself and explains to the group all important safety instructions and the correct handling of the paddle. After a short introduction, the tour starts. Now it's time to paddle. The goal is Maro and back. There will be one or two stopovers/breaks. The speed of the tour is regulated by the guide himself and adapts to the group strength.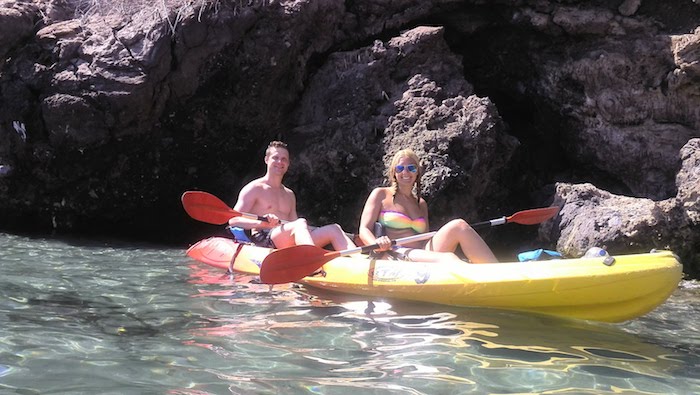 The guide will guide you along the Acantilados de Maro Natural Park – Cerro Gordo. A beautiful place that is considered a nature reserve. You will discover caves, bays and impressive rock formations (Cueva del Lobo, Casa de gaviotas and roca caída, Caletilla de Maro) on your kayak tour. The cave "Cueva del Lobo" is big enough that you can enter it by kayak and impresses with its turquoise waters. Several small rivers and streams that emanate from the Sierra de Almijara form idyllic waterfalls in some parts of the cliffs. The largest waterfalls that you can encounter on your way is the "Cascada la doncella" and the "Cascada grande de Maro".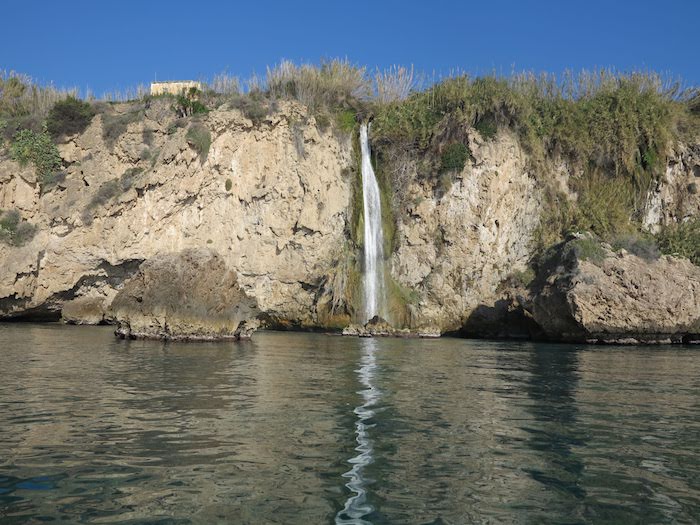 On the way to Maro rocks and stones force you to a slalom ride. Your experiences will be accompanied by photos and videos from the guide, which will be provided free of charge at the end of the kayak tour.
During the breaks there will be the possibility to cool off at one of the waterfalls, to take a jump into the water from a rocky outcrop or to marvel at the fish with snorkels and glasses. The coast of Maro is a very popular region for divers, offering you a living underwater world on your trip.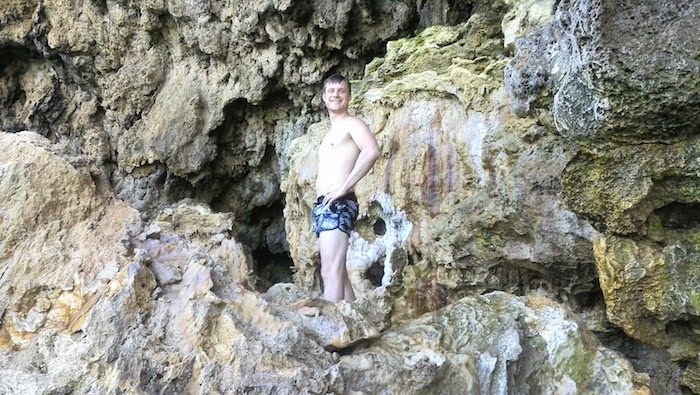 The kayak tour from Nerja to Maro is a great trip with family and friends, which I can recommend to anyone. It is important that enough drinking water and protection against the sun is taken care of. The kayak tour offers you a great opportunity to get a closer look at the unique cliff and rock landscape of Nerja. If you prefer the new trend "stand-up paddle", standing on a surfboard with a paddle, you can do the same tour in this way.
More great experiences and excursions in Nerja can be found under Activities.
Here you can book the kayak tour in Nerja
The organizer is educare aventura and has his event office on the beach Burriana. In high season, it is best to reserve your tour in advance by calling +34 600620054 or sending an email to kayak@educare-aventura.com.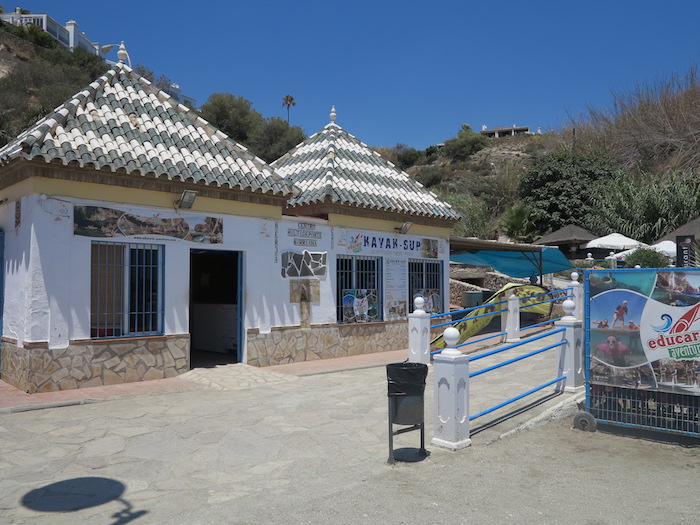 Prices and start times of the kayak tour in Nerja
There are four groups every day from June to September, starting at 10:00, 13:00, 16:00 and 19:00. The prices are based on the size of the group, but are usually € 20 for an adult and € 12 for children aged 8-15 years. Children under 8 years or can fit in a kayak between two adults can participate for free.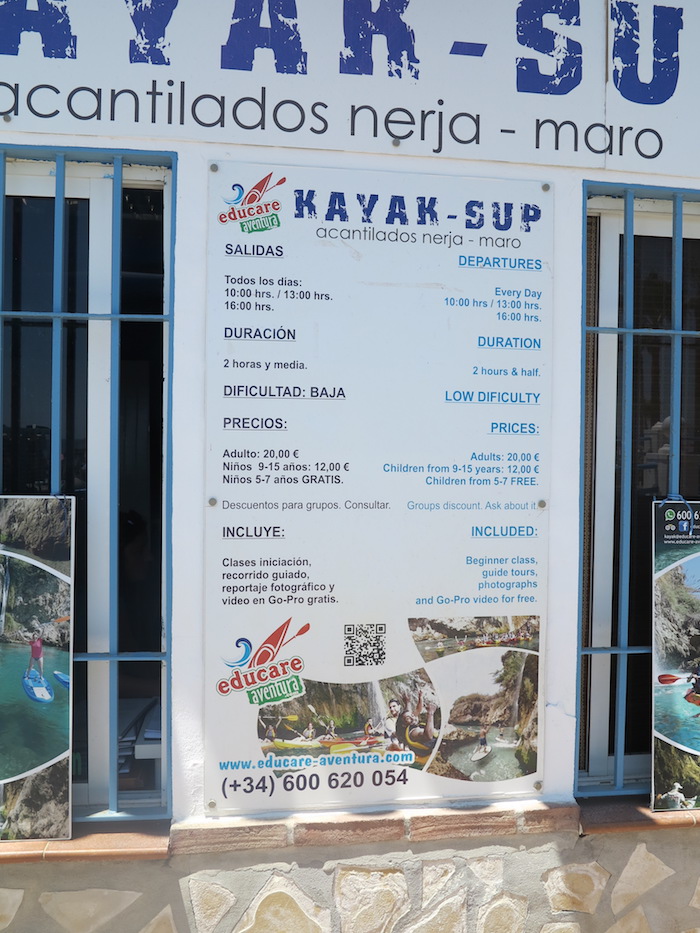 Do you have any more tips about the kayak tour in Nerja?
Have you already gained experience on this kayak tour? Are there any other tips you can think of? I would be happy to get an answer from you in the comments.
Do you have any unanswered questions on this subject? Then just write me in the comments and I will answer them in the best possible way for you.
Newsletter & Social Media
You want to be informed about new blog posts? Then subscribe to my newsletter. You will receive news from the Nerja Blog once a month and stay up to date. You can also follow me on Instagram, Pinterest or Facebook.
Read more
The best activities in Nerja for summer and winter
Rio Chillar: the wet and wild hiking trail
The most beautiful beaches in Nerja